We are less than a week before the Green Bay Packers start training camp on July 28 and one group that can't wait to dominant another season are the running backs. Aaron Jones was a touchdown machine, Jamaal Williams was a reliable rusher, but made noise as a receiver, and mid-season addition Tyler Ervin made an impact on special teams.
Jones and Williams are heading into the final year of their rookie contracts and the Packers brought in AJ Dillon from the NFL Draft in the second round. The selection of Dillon could mean one of the 2017 draft picks could be on the way out next year, but for now, let's find out what this trio can do.
Let's take a look at the running backs heading into training camp.
Aaron Jones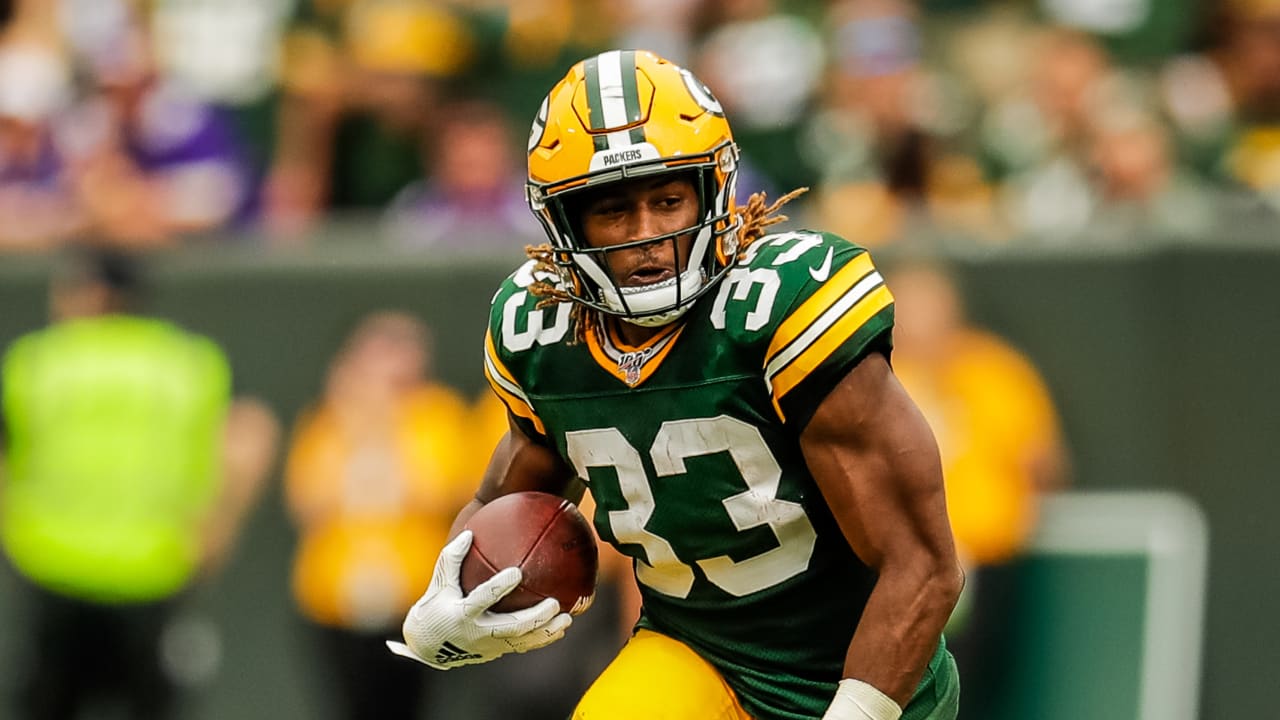 No player benefited more in Matt LaFleur's offense than the UTEP product Aaron Jones. Jones had a surreal 2019 season totaling 19 scrimmage touchdowns, 1,084 rushing yards, 236 carries, and 474 receiving yards on 49 receptions but didn't receive an All-Pro or Pro Bowl selection.
Jones has come a long way ever since being drafted in the fifth round in 2017, but the 25-year old is entering the last year of his rookie contract and there haven't been any negotiations. Jones could be set up for another big year as the Packers bolstered their running game, but could see a reduction in carries with second-round pick AJ Dillon getting opportunities.
Jamaal Williams
From dancing to post-game interviews to having the football in his hand, Jamaal Williams is one player that is always fun to watch. Getting overshadowed by the performance that Aaron Jones had last year, Williams is coming off a year where he saw most of his success as a pass-catcher. For the past three seasons, Williams has seen his number of carries decline, but the number of receptions increase.
Just like Jones, Williams is heading into the last year of his rookie contract and it's unclear if the Packers have had any negotiations with the 2017 fourth-round pick. Williams is coming off a year with six total touchdowns, 360 all-purpose yards, and 4.3 yards per carry, but might see his role decline with Jones coming off a phenomenal season and AJ Dillon in the fold of things.
AJ Dillon
Before taking the Packers head coaching job, Matt LaFleur was the offensive coordinator of the Tennesse Titans, which featured Derrick Henry as their primary weapon. LaFleur has found his new Henry in AJ Dillon as Henry is currently 6'3, 247 lbs and Dillion is 6'0, 247 lbs. Dillion had a stellar career at Boston College where he totaled 4,382 rushing yards, 38 touchdowns on 845 carries, and 5.2 yards per carry.
There is a level of concern on the number of carries Dillion has had in the past few years, but he has shown that he is capable of being the workhorse. The Packers don't need Dillon to carry the bulk, for now, as Jones and Williams could be used for the first three quarters, while Dillon comes in for the tough short yards or runs the defense tired in the fourth.
Tyler Ervin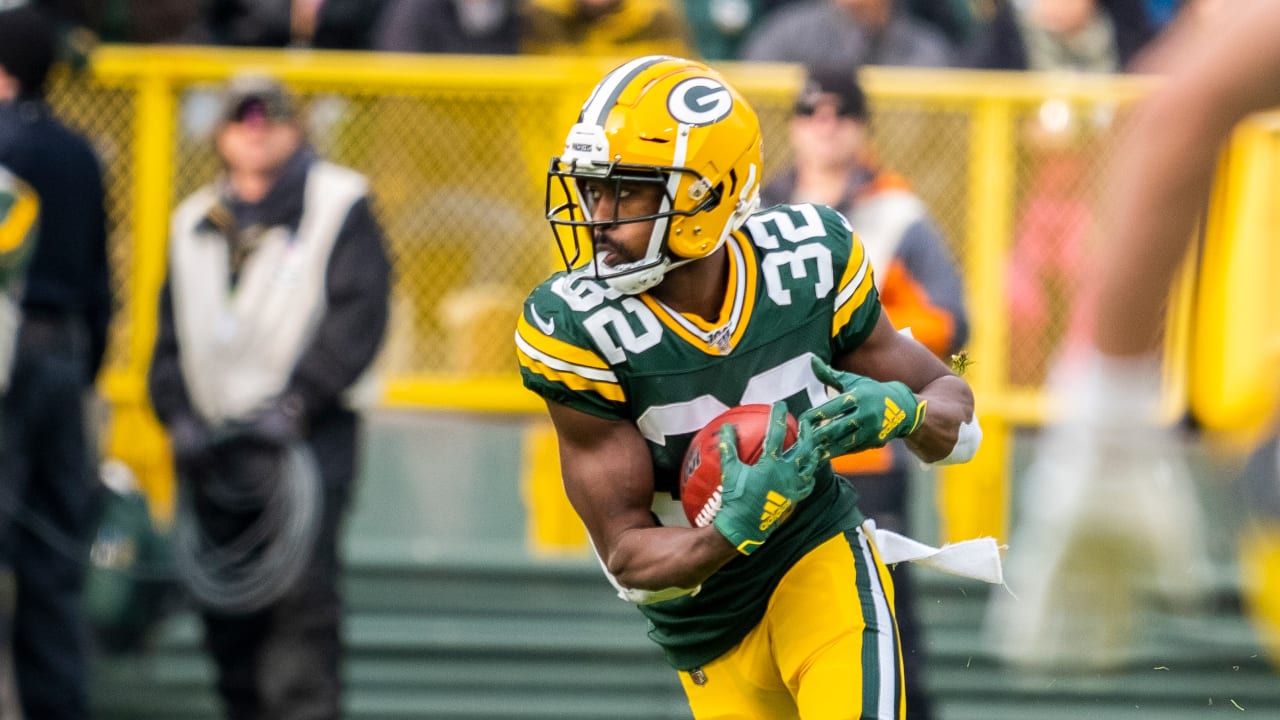 One of the best moves for the Packers last season came during the middle of the season where they claimed Tyler Ervin off of waivers at the beginning of December. Ervin got to Green Bay, who was on pace for the worst team punt return yardage in NFL history, gained 106 yards on 11 punts and 160 yards on six kick returns.
Ervin wasn't used in the offense as he caught two passes for 11 yards and one carry for ten yards. The 26-year old resigned with the Packers in March and will look to be the primary returner on special teams.
Dexter Williams
After a successful collegiate career at Notre Dame, the 2019 sixth-round pick, Dexter Williams, didn't see much playing time. Williams made his debut in week seven against the Oakland Raiders, gaining two yards on three carries, then saw another opportunity in week 17 against the Detroit Lions when Aaron Jones suffered an injury. The 23-year old could be a cut or practice squad candidate after the Packers formed the trio of Jones, Jamaal Williams, and AJ Dillon.
Damarea Crockett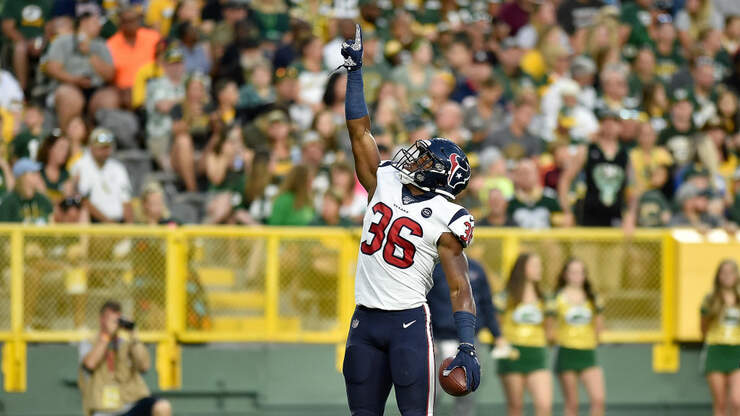 After being undrafted after the 2019 NFL Draft, Damarea Crockett has bounced around the league from the Houston Texans to the Oakland Raiders and now with the Packers. Crockett signed with the Packers practice squad back in October, but the Packers were able to sign him to a reserve/future contract in January. The Missouri product is a longshot to make the Packers roster but could provide some competition.
Patrick Taylor Jr.
One of the first players to sign with the Packers after the 2020 NFL Draft is Patrick Taylor Jr. The Memphis product was projected to be a late-round selection but ended up with the Green Bay Packers on an undrafted free agent deal. The 22-year old had an impressive collegiate career at Memphis where he was fourth in carries (536), third in rushing yards (2,884), tied for second in rushing touchdowns (36) and fifth in all-purpose yards (3,322).
There might not be enough room on the roster for Taylor, but if he has a solid preseason, he could land on another team's roster before the season starts.