W
ith all the work that went into the team this offseason on offense and defense, outside linebacker was one spot that new general manager Brian Gutekunst chose not to address. Save for some depth players for the preseason and camp the team didn't bring in any new faces at the position. Nonetheless, there will be some curious players to watch in a position group that has struggled in years past. Here's where we stand now.
1. Clay Matthews
I'm sure more than a few of you are fed up with Clay Matthews. He's making about $11 million in the final year of his contract and he hasn't always lived up to the price tag. But make no mistake, he's still the best outside linebacker on the team. Getting rid of him without adding additional talent would be a tremendous blow to the already weak position. Matthews has never had fewer than 5.0 sacks in a season during his nine year career, totaling 43 tackles, including 7.5 sacks, in 14 games in 2017. He's had his share of injuries, but he's never missed more than five games in a single season and is the only player who has consistently been able to rush the passer each year of his career. He may not be the Defensive Player of the Year candidate that he was in 2010, but he's the best outside linebacker on our team.

2. Nick Perry
If you are mad about Matthews' contract, you should be irate about Nick Perry's. Perry is entering the second year of a five year contract that is paying him almost $12 million annually. He's never played in a full 16 games, he started camp on the Physically Unable to Perform list this year, and he's recorded more than 4.0 sacks just twice in his career (averaged 9.0 over the past two years). More importantly, Perry has not been as consistent when he's the number one pass rusher on the field. Despite his flaws, Perry is a capable second rusher, even if he's overpaid for his part. It would be an absolute shock to see him play in all 16 games, but if he can remain on the field down the stretch the team should be at least mediocre at the position.
3. Vince Biegel
While Matthews and Perry are unquestionably the starters in Green Bay, the backup ordering is less clear. Biegel only played in nine games as a rookie, missing out on much of the offseason due to a broken bone in his foot. He recorded 11 tackles and didn't get any sacks. Seeing what the fourth-round pick from 2017 can do now that he's got a full offseason under his belt should intrigue all Packer fans. He's got the talent to be a capable backup in the NFL and he could eventually develop into a starter. He'll figure to get a fair amount of run in the preseason, and he should be expected to shine against backup competition.
4. Kyler Fackrell
Fackrell has been a tremendous disappointment since joining the Packers in 2016. In 29 career games he's recorded 46 tackles, including 5.0 sacks. He simply hasn't flashed the potential that you hope to see from a third-round pick. He'll turn 27 in November and isn't so young that he gives you hope of large strides each year. While not impossible, it seems unlikely that Fackrell will ever develop into much more than a backup. He's alright in limited snaps, but there will be cause to worry if Matthews and Perry go down, leaving Fackrell to a starting roll. Here's hoping Mike Pettine can draw up some interesting pass-rush concoctions to make the most of the struggling talent.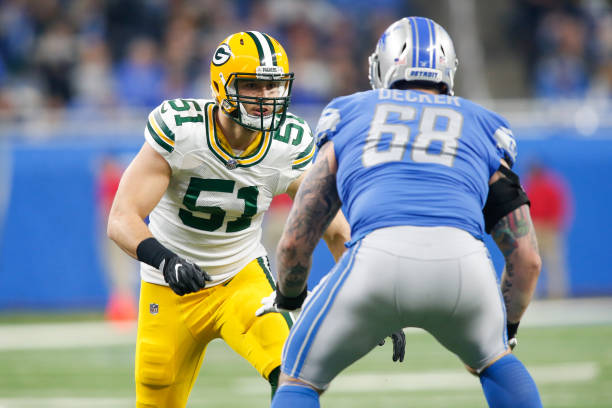 5. Chris Odom
Odom has the size (6-foot-4, 260 pounds) of a strong outside linebacker, and he's still just 23 years old entering his second season. There's hope for his development but for the time being he's nothing more than a depth defender and special teams player. He saw action in seven games last season, combing for six total tackles. The preseason will be a time to evaluate his progress, as he'll figure to get a lot of action, especially in the second half of the next couple games. Regardless of the numbers he puts up, it'll be interesting to see how effective he is at getting to the quarterback and forcing out quick passes given that we didn't get to see him much in 2017.
6. Reggie Gilbert
Gilbert joined the Packers' active roster late in the season last year, suiting up for two games. He recorded just two tackles, though one of those was a sack. He's a similar size to Odom (6-foot-3, 260 pounds), and has the athletic ability you look for in the position. If he can put the tools together he could be a potential backup, but that's a big if. Barring an overly impressive preseason he's looking at a depth and special teams role at best.
7. James Hearns
Hearns joined the Packers as an undrafted free agent. His production at Louisville (42 tackles, 7.0 sacks, four forced fumbles) indicates he could be a good NFL player, but his 4.92 second 40-yard dash is far from impressive. He's a player who uses strength and size to produce, which could prove difficult in the NFL. He'll need to develop as a pass rusher against top NFL competition to make the roster, but he'll have a decent chance at the practice squad.

8. Kendall Donnerson
Donnerson could work his way up the depth chart slightly as the preseason wears on, and he'll need to if he's going to make the final roster. A seventh-round pick in the 2018 draft, Donnerson was taken as a wild card pick. He comes in last place on the depth chart despite being drafted, unlike Hearns. To his credit, he looks the part, standing 6-foot-3, tipping the scales at 244 pounds, and running a 4.62 40-yard dash. Unfortunately, he played just four games for Southeast Missouri State, totaling four tackles, three forced fumbles, and an interception. He's got no meaningful production to speak of, but if the coaches can mold his talents the right way he could become a useful player. He's a prime player to become a practice squad member.