It was blindingly obvious how bad the Green Bay quarterbacks were behind Aaron Rodgers last year. Aaron's injury meant that Brett Hundley was thrown into the fray and laid bare for all to see. The verdict? Hundley simply is not a good NFL quarterback, not really too much debate about it. So about a week ago the Packers traded Damarious Randall for DeShone Kizer, who is instantly and indisputably the new backup to Aaron Rodgers. What happens with Hundley remains to be seen, what's more important is evaluating what we now have in Kizer.
Drafted in the second round (52nd overall) of last year's draft, Kizer was a much more highly touted player coming out of college than Hundley (the Packers drafted Hundley in the fifth round, 147th overall, in 2015). The now-22 year old Kizer started 15 games for the winless Browns last season, and obviously he didn't look good enough for Cleveland to keep him around (they traded for Tyrod Taylor instead). No, Kizer doesn't appear headed to the Hall of Fame after his rookie season, but not many rookies do. Let's take a look at how things actually break down on Kizer entering 2018.

Strengths: Physically, Kizer has all the physical measurements a team could want. At 6-foot-4, 233 pounds, he has prototypical size for an NFL quarterback. While he didn't jump off of the page in 2017, he was seriously hindered by being thrown into a starting spot in the NFL, with the Browns no less, in his rookie season. That's a tall task for any player. Nonetheless, he showed impressive arm strength and an ability to withstand the impact of the NFL game. Additionally, he played within himself. Often times young players can get caught trying to do too much, though he did have his rookie blunders, for the most part he made sure to adhere to the system he was in and make the best of what was admittedly a draw of the short stick.
Kizer's ability to run resembles that of Aaron Rodgers. Neither has remarkable top end speed, but they are athletic enough to make defenses pay for coverage gaps or holes in the rush, which allow them to sneak through for decent gains multiple times a game. Kizer rushed for 419 yards and five touchdowns on 77 carries last season. Though Kizer didn't have a stellar rookie season, he showed enough tools to make the Packers think that he can develop nicely behind Aaron Rodgers while providing the team with an improved backup situation.
Weaknesses: Everything stated previously aside, Kizer has some major issues in his game. That isn't to say most players don't, but he's far from flawless. His statline last year is as follows, 255-for-476 on passing attempts (53.6%) for 2,894 yards (6.1 yards per attempt), 11 touchdowns, and 22 interceptions. That equals to a quarterback rating of 60.5 (by comparison, Hundley ended the season with a rating of 70.6). How much of that gets chalked up to the Browns offense and how much goes to Kizer himself? Admittedly it's a little of both.
Remember what I said about playing within himself? That basically went out the window when the fourth quarter rolled around. Granted, the Browns were trying desperation comebacks most of the time, but Kizer's rating plummeted to 47.5 in the fourth quarter and his touchdown to interception ratio was a paltry 2-to-9. This would be less of a red flag if it hadn't happened in college as well. But taking a look at Kizer's draft profile, experts said that DeShone played his worst football as the pressure mounted. He could play within himself and within the offense all game, but when crunch time hit he seldom made the right play. That's not to say he can't learn to be better in late game situations, but he doesn't appear to have the clutch gene, few do.
The other glaring issue with Kizer is his accuracy. Though he has a great arm, he often misses players at various levels of depth on the field, resulting in his low completion percentage. His accuracy in many ways mirrors that of Brett Hundley, who had a higher completion percentage (60%) primarily do to primarily throwing extremely short passes.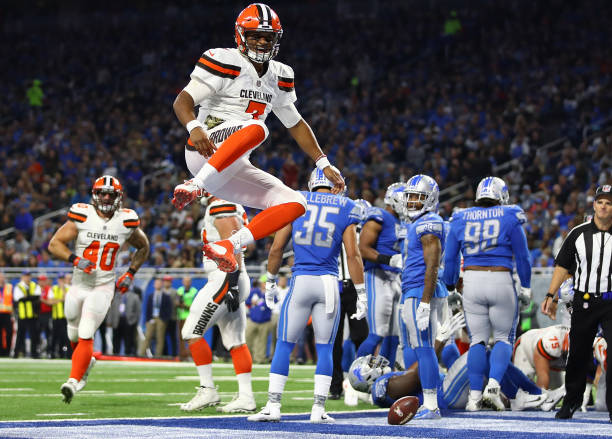 How he fits in Green Bay: Watching Kizer highlights, he looks a lot like… Brett Hundley. He is better than Hundley, no question about that, but the two have many of the same shortcomings. The main difference is, Kizer looked better as a rookie than Hundley did after spending three seasons with Aaron Rodgers. Given the chance to learn from a great quarterback and quality coaches could dramatically impact DeShone, whereas Brett seems to be near his unfortunately low peak already. No, Kizer doesn't make us into Minnesota or Philadelphia (team's capable of reaching the NFC championship game without their starting quarterback), but he does improve our chances of weathering a stretch without Aaron Rodgers. Whether the trade for Kizer ends up a positive in the long run remains to be seen, but it does improve the quarterback position, even if only by a little.